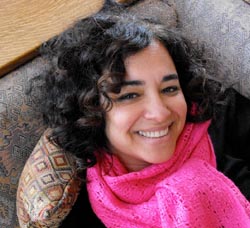 Amy Krane's passion has always been color, as found in nature and interpreted by man's artistry. The tiles and textiles she encountered while traveling stoked her insatiable appetite to sample the colors of the world. She credits the saris of Rajasthan, the tadelakt of Morocco and the turquoise lagoons of Bora Bora as inspiration.
After 20 years as a producer, seeking another creative outlet, Amy Krane Designs was launched in 2005. There Amy created floral arrangements for film shoots and events. Using nature as her medium, fascinated by the interplay between color, light and form, it was a natural segue when clients, responding to the beauty of her creations, began seeking her advice on paint color and decor. This led her to a formalized education in the art and science of color.
Trained by the IACC-NA , The International Association of Color Consultants/Designers of North America (the world's foremost color education and accreditation organization) Amy combines the science of applied color theory with her artistic sensibility, a background in art and business and the understanding that color has profound emotional, psychological and physiological affects on us all.
A design blogger sought by National media outlets including Elle Decor, Houzz, Consumer Reports, Domino and The Today Show, Amy offers professional color-centric insight with a fresh new voice. Her company collaborates with home and business owners, property managers, architects, contractors, builders and realtors.
Amy consults on architectural color decisions for the built world, interior and exterior. Her talent for creating harmonious environments employing compelling color combinations is available to clients at Amy Krane Color.
Member IACC-NA , Professional Women in Building, Columbia County Chamber of Commerce, Albany- Colonie Chamber of Commerce, ISCC, NAHB, CRBRA  and Women@Work.