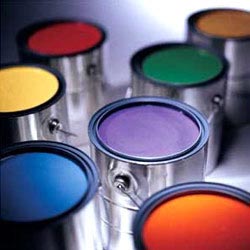 Choosing the right brand of paint can be confusing.  Benjamin Moore, Sherwin-Williams, Farrow & Ball and C2 all offer color ranges of great depth and beauty and are very high quality paint.
Using designer kits containing oversized color chips, each color consultation can draw paint colors from over 5600 different large color samples.
At Amy Krane Color we also recommend using full spectrum paints when possible. Full spectrum paints are offered locally by C2 and Benjamin Moore, Color Stories.
Full spectrum paints utilize many more pigments than typically employed to create each paint color. Each color is comprised of 5 to 7 pigments, not the standard few used in the industry and they are never made with black or grey tints. This use of so many pigments in each color formula makes full spectrum paints complex colors of great depth and luminosity. They appear very mutable as the light of the day changes and because they contain so many pigments they make stunning color combinations in and between rooms. These paints are all low VOC. The cost of materials is relatively minor compared to the cost of labor when painting. Invest in the best that you can.
Amy Krane Color   Ghent, NY, 12075